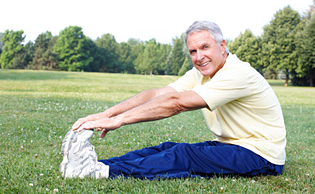 The trick is growing up without growing old.
If I were to say that growing old is as inevitable as the passage of time, it would be annoyingly overstating a fact of life. But if I were to ask you to start revising your concept of 'growing old', it would probably give a new dimension to the idea of 'growing old'.
Let us start from scratch. How do you define 'old'? What is 'old'? 365 days after we are born, we are always 'x years old', then when is it that the word suddenly takes on a different connotation? Well, the answer lies within you. It is when you choose to re-define it.
Every decade in our life adds to our wealth of experience and every moment lived is precious. Live on your own terms. Do not let popular perception determine your view of life. This is the key to good health.
As years add on and life gives us its mix of good and bad, we are often left to cope with a tad too many things like loss of loved ones, health problems, living alone or feeling lonely (mind you, the latter two are not the same) or stressed with the duties of our daily lives. Feelings like these may cause loss of energy, lethargy or wrong eating habits. Here too, only YOU can make a difference. All you need to do is to take a little care of yourself. This will improve your emotional as well as physical health.
Here are some pointers:
Stay connected with family and friends. Use technology to add value to your life.
Get enough sleep.
Eat a balanced diet based on your health needs.
Join a social group. It could be a 'morning walkers' group', a laughter club or a yoga club even a visit to the local community centre.
Surround yourself with positive people who have a zest for life.
Lead an active life--take up a hobby such as playing cards, gardening, cooking, or dancing.